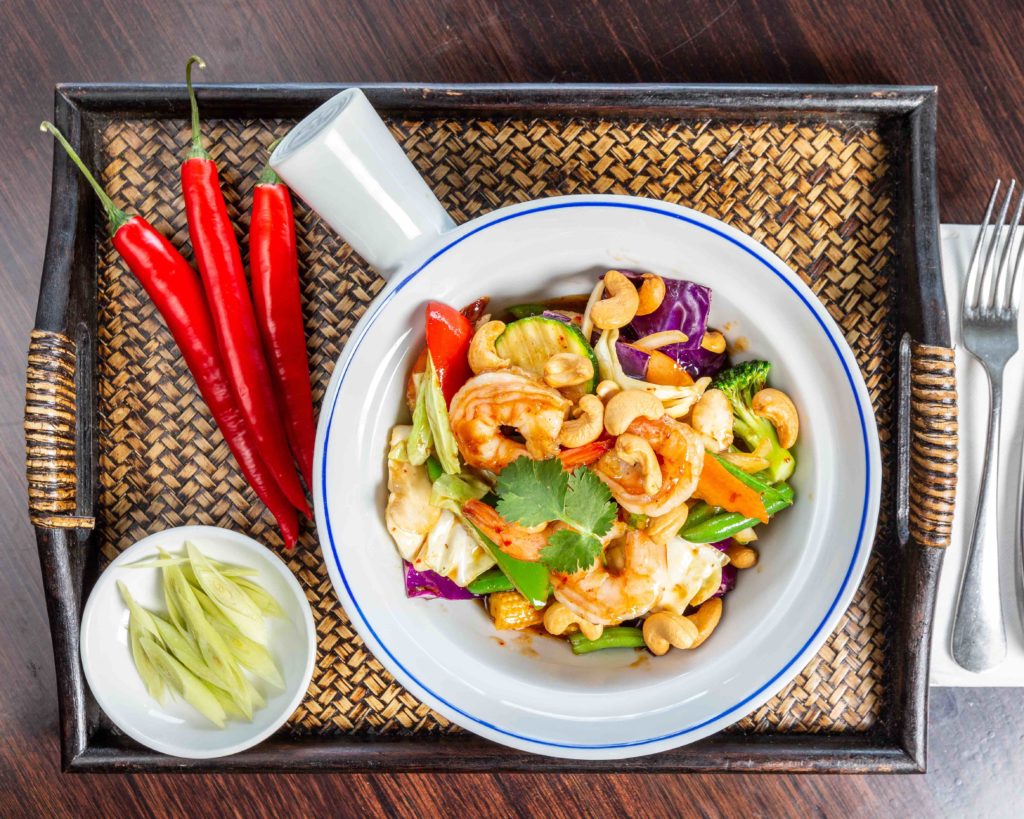 The fragrant blend of hot, sweet, sour, salty and sometimes bitter flavours, make Thai food one of the world's most distinctive and popular cuisines. Our Thai cuisine is lightly cooked so it's crisp, colorful, deliciously flavoured, fresh and nutritious. Essential herbs and spices in Thai cuisine include: lemon grass, lime leaves, galangal root, coriander, and fresh basil to name a few.
Thai cuisine is one that is featured in a unique combination of dishes, commonly called a set. The flavour of the dishes in a set compliments and enhances each other to create a unique taste experience.
Traditionally, the best way to experience the full flavours of Thai stir- fry, soup and curry dishes served with steamed rice, is to take a portion of rice and a portion of the dish onto your plate and eat them both at time. Mixing a whole bowl of rice together with the dish tends to steal the taste experience. Feel free to ask us for any suggestions on how to experience our tantalizing Thai dishes.
At "Royal Thai" we take great care in preparing cuisine from recipes handed down for centuries, adjusted to today's tastes and served in an authentic manner. We have an extensive selection of seafood dishes and we cater especially for vegetarians. For those in search of true Thai cuisine, we invite you to experience the aroma and flavours of "Royal Thai" cuisine. Suzanne McGrath
A delightful experience with great food 🍲, friendly warm staff and a special ambience. Brittany Beaty
Last week I went there with my family. Their duck spring rolls and fish cakes are so tasty and fresh. Their Tom Yum soups are absolutely Thai style. Staff are so considerable friendly and helpful. Lovely dinner of Soup & Drunken Duck which was SO good. Our waitress was very friendly & helpful with a big smile. I definitely will come back. Would certainly recommend.
Very high quality ingredients. Beautifully combined to give a wonderful authentic Thai meal. We had the pad thai. Beef masaman and prawn with cashews. All where excelent. The restaurant had plenty of tables available.
The staffs are very friendly and the place is nice with traditional Thai decorations. Food is yummy as well. We do love the homemade sauce that they add to stir fried dish.
We had trouble finding a Thai restaurant we liked the look of in the CBD, so we walked a little further to North Hobart to find this place. It was quiet, with a beautiful, spacious dining room, and excellent food served by friendly staff. (The roti was crunchier than we've encountered elsewhere; we really liked it.) Ash T
Delicious authentic Thai, we had the satay chicken stir fry and the massaman curry. Satay was to die for, massaman was good but pieces were a way too big for chopsticks. Staff treat you very well. We will definately be back! Thank you to both front and back of house staff.